Setting up Apple Mail (1)
1. Click on the postage stamp icon in the Dock to open Mail.




2. Type your name in the "Your Name" box as you would like it to appear in the "From" field when someone receives an email from you. Type your email address in the "Email Address" box. Type "pop.kwom.com" in the "Incoming Mail Server" box. (If you have your own domain name, check with us for instructions.) The Mail Server Type is "POP".

Type your email account name in the "User Name" box. Your account name will typically be your email address without the "@kwom.com" but may be different if you have a long email address, or if you have your own domain name. If in doubt, it is best to check with us rather than guess. Type your password in the "Password" box. Type "mail.kwom.com" in the "Outgoing Mail Server" box.

Click "OK".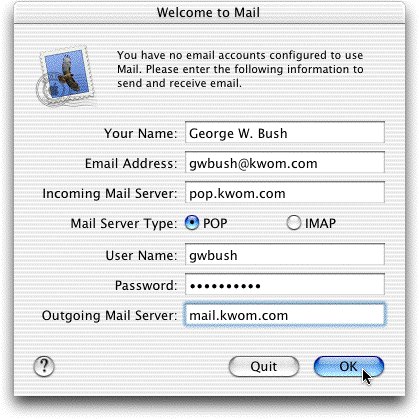 3. When asked whether you want to import mailboxes, click "No" unless you have been using another email program on this computer.





4. From the "Mail" menu, select "Preferences".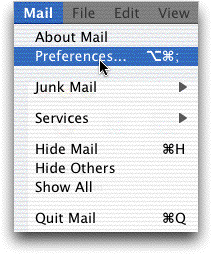 5. If desired, change how often Mail should check the mailserver for new messages, and select a sound to play when new mail arrives.

Highlight your KWOM email account in the "Description" box, and click on "Edit".




6. Click "Next" at the bottom of this page to continue with the setup instructions.